Bai Tu Long Tours

SUPERIOR CRUISES

GINGER CRUISE
PARADISE CRUISE
JASMINE CRUISE
VIOLET CRUISE
PRINCE CRUISE

MID-RANGE CRUISES

VICTORY CRUISE
EMERAUDE CRUISE
BHAYA CRUISE
INDOCHINA SAILS
EMOTION CRUISE
DRAGON PEARL CRUISE
CALYPSO CRUISE
LAGOON EXPLORER
WHITE DOLPHIN CRUISE
PALOMA CRUISE

BUDGET CRUISES

HUONG HAI CRUISE
PEARLY SEA CRUISE
HAI LONG CRUISE
BAI THO CRUISE
ORIENTAL SAILS CRUISE
AMBER GOLD CRUISE
PHOENIX CRUISE
BAI TU LONG CRUISE
CLASSIC SAIL CRUISE
SPICE CRUISE
BIEN NGOC CRUISE
ANNAM CRUISE

PRIVATE CRUISES

LIFE HERITAGE CRUISE
LEGEND CRUISE
HELIOS CRUISE
Homepage > Halong Bay sights
Trinh Nu Grotto
The Trinh Nữ Grotto or Virgin Grotto is situated on the island range of Bồ Hòn in the system comprising the Sửng Sôt Grotto, Ðộng Tiên Lake and Luồn Grotto. It is 15 km south of Bãi Cháy Beach. For fishermen, the Virgin Grotto is their house, but for young lovers, it is considered as the symbol of truly love, and is the romantic place for taking oath of love.
Read more >>
Luon Grotto

Situated on Bồ Hòn Island, 14 km south of Bãi Cháy Beach is the Luồn Grotto. In front of the grotto is Con Rùa Islet, and the Sky Gate is on the right. Here the cliffs stretch vertically out of the pure blue and smooth water. At the water-level, an arched entrance leads to the grotto, just at the base of the island.
Read more >>
Hanh Grotto

Hang Hanh is one of the longest grottoes in Ha Long Bay, lying 9 km west of Cẩm Phả Town and 20 km from Bãi Cháy Beach. It is 1,300 m long, and stretches throughout the stone mountain of Quang Hanh.
Read more >>
Bo Nau Grotto
Some 2-3 km southeast of Trống Mái Islet lies Bồ Nâu Grotto or Pelican Grotto. This vaulted grotto covers 200 m2. The floor of the grotto is wide and flat, but not deep, and its wall features lots of stalactites and stalagmites.
Read more >>
Dau Go Grotto
The grotto is on Driftwood Island. Seen from afar, the entrance to the grotto appears to be blue, and has a shape similar to that of a jellyfish. After 90 steps up the island, the entrance is reached. The ceiling of the grotto is about 25 m. Hundreds of stalactites falling down from the roof of the grotto look like a waterfall.
Read more >>
Thien Cung Grotto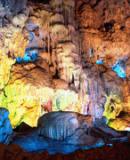 It is situated on the south-west side the bay, 4 km from the wharf outside of Ha Long City. The way to Thiên Cung is a perilous one, covered on both sides by thick forest. After entering a narrow gate, the grotto's 130-meter-long girth opens up.
Read more >>
Tam Cung Grotto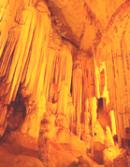 The Tam Cung Grotto or Three-palace Grotto is situated in the centre of Hạ Long Bay, 5 km from Sửng Sôt Grotto to the northeast. The grotto itself is divided into three parts; after threading the stone cracks, you find the first chamber. Many beautiful forms can be garnered from the rocky shapes.
Read more >>