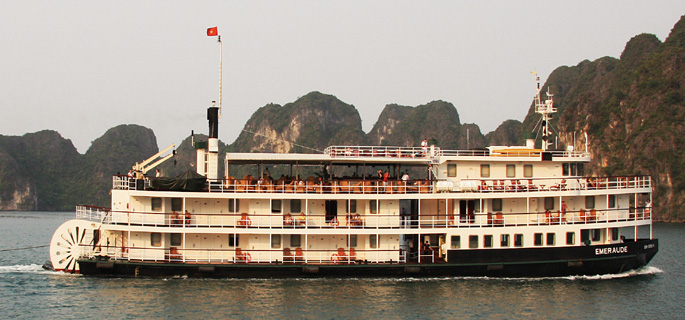 Emeraude Cruise Halong bay
Emeraude Classic Cruise Halong
: Old world charm resurfaced on the calm water of Halong Bay, Vietnam with the launch of a magnificent five star vessel Emeraude modeled in the tradition of the grand old single wheeled paddle steamer of the colonial era. One of the great natural wonders of the world and a UNESCO World Heritage Site,
Halong Bay
covers an area of 1,500 km² over which are scattered thousands of limestone islands and grottoes rising from the clear, emerald waters of the Gulf of Tonkin.
The majestic beauty of the bay and its islands is only fully appreciated while meandering among the islands, fjords and islets. The original Emeraude was one of the flotillas owned by the Roque family who left Bordeaux in 1858 in search of fame and fortune. The fleet cruised along Indochina waterways and Halong Bay in the olden days. The original Emeraude sank in the Bay in 1937. Using advanced techniques, French architects painstakingly modeled the new vessel from old photos and drawings found at the Paris' Maritime Museum. Passengers can now relax, seek total comfort in the luxurious cabins or enjoy the beautiful sea breeze on the sun deck and enjoy the splendor and serenity of nature.
The Emeraude operates daily a two day, one night cruise. For lunch and dinner, passengers get to enjoy delicious freshly caught seafood and Vietnamese specialties. In the morning, an American style breakfast is served onboard the colonial vessel. For passengers who want more than just cruising around, the Emeraude also offer afternoon tea, traditional body massages and sunrise Tai Chi classes. The trip is completely flexible offering we variety of options for all.
The ship has been undergoing imprtant maintenace works in order to ensure the safety 7 confort of all passengers and crew. The new cabin configuration of the ship from 5 July 2008 as follows:
Superior: 12 cabins
Deluxe: 22 cabins
Suite: 03 cabins
Halong Emeraude cruises
Emeraude cruise 2 days 1 night
Emeraude cruise 3 days 2 nights


---