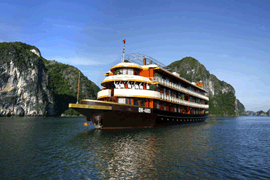 Halong bay, only its name is an invitation to travel, a raise up of a dream to discover.
One of the most beautiful natural treasure in the world, classified as World Heritage Site by Unesco, one of the most famous sites in Asia, Halong bay is the "must - see" for every traveler once visit to Vietnam. Named as eighth wonder of the world, the bay covers an area of 1550 km2 where spread of nearly 3000 islands, formed like rocky limestone and are scattered strangely from the emerald water.
The legends said that, once upon a time, the dragon live in the mountain and come down to the sea, its tail move with violence and make the cost into thousands of rocky mountains. Halong Bay means " The Bay of Dragon Descend".
Along with the time of the nature is the people who are attached thousand of year in the bay, many fishing villages are still there, again the storm and the movement of our civilization.
The Emotion Cruise
General:
Designed in the 1910's Indochina style, the Halong Emotion offers the perfect mix in traditional elegance and modern comfort. Special attention has been paid to the decoration and interior of the junk.
It features 28 comfortable rooms, a dining room with sea view, a bar and a superb sundeck.
Year in operation: 2008
Length: 50m
Width: 10m
Floors: 3
Cabin: 28 luxury cabins
Spaces: dining room, bar, sundeck
Engine: 300 HP
Generator: 120 KW
Cruising speed: 18 km/h.
Cabins:
In line with our commitment to offer guests both charm and comfort, our cabins offer a range of facilities and an elegant ambiance.
Restaurant & Bar
It is a warm and romantic atmosphere, will be the feeling you have when sitting by overlooking sea view window and being served in our restaurant. All the dishes are made of fresh materials in the coast.
Any taste of wine will be satisfied in the bar, which is located in the sundeck. And it is where you will have chance to watch the profession of our cook in barbecue
Sundeck
Located on the top floor is the 500m sundeck, excellent for sunbathing, panoramic views and - if the weather permits – barbeques. Grab a drink in the bar, lay back and enjoy a magnificent sunset.
Take advantage of the cooler air in the mornings to practice Tai Chi. Different workshops will be organised by our instructors on deck.
Activities
Halong Emotion offer you the various services on board :
• Massage – spa beauty service
• Traditional music: enjoying the Vietnamese culture by folk music
• Kayaking: exploring the bays islands by yourself
• Diving: Exploring the beauty under the water surface
• Swimming: one of the most joyous moment when you are in Halong
• Cooking classes: a chance to learn more about Vietnamese cooking style
• Taichi classes: A great way to greet a new day ( if weather permitted)
• Kite – flying
Halong Emotion cruises
Halong Emotion cruise 2 days 1 night
Halong Emotion cruise 3 days 2 nights


---