The Huong Hai junk could bring to you a wonderful night in Halong bay with luxury and antique accommodations with perfect services proved by the crew. Spending time on the junk, you'll not only savor a unique feeling in a world of wonder but also enjoy various of such interesting activities as: watching Vietnamese folk music performance, going fishing on the bay at night, kayaking, learning Vietnamese cuisine.
This cruise boat is operated by Huong Hai Junk Company
At the momment, there are 2 junk types: Deluxe Huong Hai & Standard Class Huong Hai Junks.
Many tourists will come and take boat tours around these islands, sleep on the boat and watch the stars at night. The Bay is rich with many kinds of fish, coral and anemones-some which glow in the night waters. When you are sleeping on a boat it is so peaceful and you feel you are in a very special place.
Huong Hai Junk Company operates 9 wood junks in Chinese emperiors style. 60 cabins can accommodate large groups or individual travelers. Each deluxe cabin is equipped with Western private baths, hot water and air condition. Restaurant and bar service is available anytime. Newly rated 4 star boats, Huong Hai Deluxe will feature 12 cabins each, with bar dining room, massage, and outdoor yard to view land and sea scenery. The most luxurious junk boasts details of 47m long, 10m we, with 26 cabins, internet service, and an outdoor yard of 400m square, a large 160m square dining area, and mini bars in cabins. All of which is of 4 star standards.
Huong Hai Junks are made by the best shipwrights in Asia. They use only the finest materials and use traditional secrets, which comply with the high standards of government approval on each vessel. Huong Hai has proud in their ability to keep price lower than other competitors in Asia, while having the highest workmanship.
1. Standard Junk: small cabin without AC
Style: old Europe model, in operation since 2001

Size: 33.5 m * 6.3 m

Number of bed rooms: 07

Cabin size: 6m2

Cabin equipment: 2 single beds, 2 fans, private bath-room with hot water, shower

Install: Mobile phone, VHF system
2. Deluxe Junk: bigger, newer cabin with AC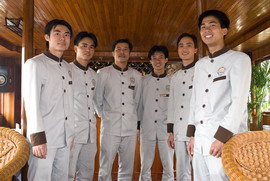 Style: traditional Chinese-styled model/ Traditional Vietnam Court model, in operation since 2003

Size: 25.5m * 6.7 m

Number of bed rooms: from 5 to 7 cabins up to the boat name. Totally, there are 7 Deluxe boats: Huong Hai 01, Huong Hai 16, Huong Hai 17, Huong Hai 25- 27- 34, Huong Hai 36

Dining room: 60 m2

Play ground: 20 m2

Install: mobile phone, VHF system

Electric generator: 27 KVA

Cabin equipment: 2 single beds, 2 fans, air-conditioner, private bath room with shower, hot water

Cabin size: from 7m2 to 8.8 m2

Sundeck: available at Huong Hai 16
Huong Hai cruises
Huong Hai cruise 2 days 1 night
Huong Hai cruise 3 days 2 nights


---