Banh Sua island

Looking from above, Banh Sua island is much smaller than surrounding islands so people take pictures often call it "little brother" in the great family of the hundreds of islands in Bai Tu Long Bay. The atmosphere is always quiet and peaceful.
To explore this beautiful island, visitors must wake up from 5 am to catch the boat to the island, because at that time the tide is at its lowest. Barefoot on soft sand, racing against high tides, it all promises a day of fun and excitement.
---
Halong opens souvenir creation camp

This is an activity celebrating 20 years Halong bay was recognized by Unesco as a World Natural Heritage. In response to the contest for creation of souvenirs of Halong bay, launched by Halong Bay Management board. The camp attracted 15 painters and sculptors who are members of Arts Society (under provincial Association of Literature and Arts). The camp will close at the end of the month.
---
Cua Ong temple festival

Cua Ong temple is one of the relics under Tran dynasty in north east Vietnam, the temple was built on a hill about 100m looking down the sea on the south, two sides of the temple are protected by Green Dragon on the left and White Tiger on the right, behind is mountain range stretching all the way to Cam Pha, Mong Duong areas.
---
Eating in Halong

In a word, eating in Halong is not cheap, restaurants and fishing farms have the same price, you can change the atmosphere by going to a floating farm on the sea. In addition, you are recommended to order Ngan (Oyster), baked or steamed, this specialty is only available in Halong bay, wine lovers can also order Oyster blood wine, very good for health.
---
Visit Halong bay by sea plane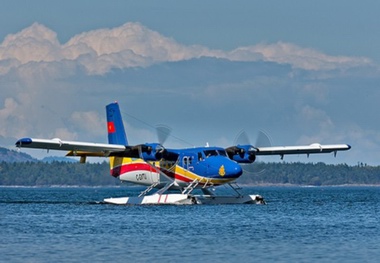 Air taxi service was introduced by Northern Flight Service Company in order to serve the needs of travellers who have little time and prefer some convenience. Helicopter service to visit Halong bay was launched in 2008, it cost aprox 550 usd/person (round trip) and 350 USD / person (one way). Sightseeing fees is 110 usd/person.
---
Prepare a trip to Halong bay

In summer, the beaches of Halong as well as other beaches are hot and sunny and it may burn your skin and don't forget to bring along anti sunburn lotion. Domestic visitors are also recommended to bring with you towels, shampoo, toothbrush and toothpaste. Although these items are available at the hotels however cannot compare to our own things, and a pair of sunglases and a wide brimmed hat is recommended. Visiting Halong bay will take you to the mountain caves and you should wear soft slippers when you walk.
---
Halong tourist wharf moved to Tuan Chau island

Regarding plans to move the tourist cruise ships from Bai Chay wharf to Tuan Chau island wharf. Besides port 1 has been in use since 2009, currently Tuan Chau Group is building a 2 ports for junk cruisers with a capacity of up to 2000 ships. This is a modern cruise port, world class with a full system of items and services, serving rescue tourists. Expected to finish in December and put into use.
---
Halong bay history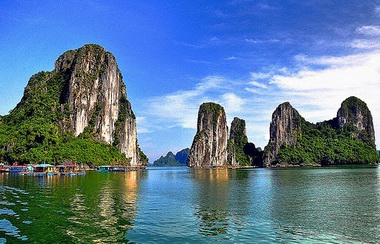 In Vietnam's history, Halong Bay is also an important place. It is the home of the historical port Van Don, and a place where heroic ship battles took place to protect Vietnam against foreign invaders. It was here on Bach Dang River that General Tran Hung Dao planted sharp wood stakes in the water during a Mongol attack. These stakes punctured the hulls of Kublai Khan's ships.
---
Typical Halong bay itinerary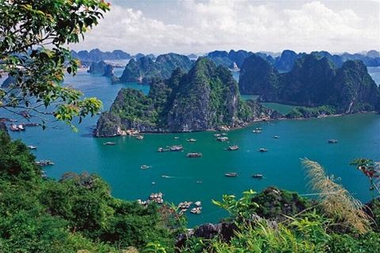 Your tour guides are responsible for a large part of your experience. Their presentation, their attitudes, and the general ambience they set can turn an otherwise mediocre tour into a great and memorable one. Select tour packages based on their promises of knowledgeable, engaging, and personal be tour guides that can help open the Halong Bay experience to you and your family. Insist on nothing less because solid guides are exactly that-guides. They help set the mood and tone of your trip.
---
Halong bay - reasons to travel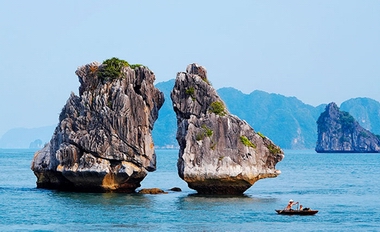 The scenery in and around Halong is breathtaking. The water stretches for miles and is dotted with thousands of small islands. Many of these islands are large, mountainous rocks that jut up from the bay. Other islands are large enough for people to explore. The unique arrangement of water, mountains and wildlife prompted UNESCO to name Halong Bay as a World Heritage Site. While many places can be explored thoroughly, there are some areas where visitors are restricted in order to preserve the natural habitat.
---