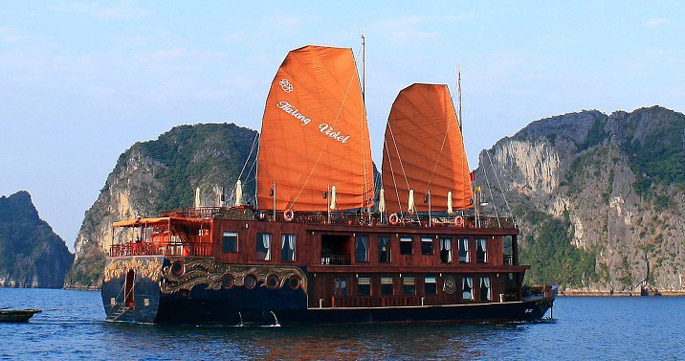 Will officially be launched on 15th November 2009, our newest five star junk - the Halong Violet - will be fitted out in the 1930's Indochine style. It will feature a boutique dinning room, library & lounge, Spa & Gym and 6 individual theme cabins with marble bathroom, jacuzzi & balcony. The junk will also cruise its own way away from the crowd to untouched areas of the bay with a longer overnight cruises.
- Violet Suites: Entertain lavishly in a 43 sqm suite offering elegant Indochina 1930 decor featuring warm, exotic woods, fabrics and hand painted walls &ceiling. Exclusive amenities include plush king bedroom with private balcony & jacuzzi on upper deck.
04 Violet Suites: Dragon, Phoenix, Moon and Cloud
• Personal butler
• LCD TV and DVD player
• Jacuzzi tub
• Air - conditioner
• In house phone
• Deluxe amenities
• Private balcony
• Linen bedding
• Glass standing shower
• Mini bar
• Wardrobe
• Cotton bath robe
- Violet Deluxe: Cruise Halong Large, gracious balcony allows streams of light into an airy 36 sqm room featuring elegant furnishings and rich decor. Meticulous attention to detail is reflected in a plush king bed and Italian marble bath featuring walk-in shower and bath tub with LCD TV & DVD.
02 Violet Deluxe: Mountain & Water. Both on main deck with:
• Personal butler
• LCD TV and DVD player
• Jacuzzi tub
• Air - conditioner
• In house phone
• Deluxe amenities
• Private balcony
• Linen bedding
• Glass standing shower
• Mini bar
• Wardrobe
• Cotton bath robe
Halong Violet cruises
Halong Violet cruise 2 days 1 night
Halong Violet cruise 3 days 2 nights


---