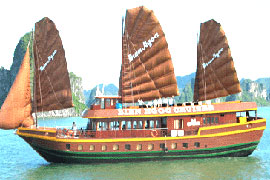 The Bien Ngoc Cruise Liner offers a vast number of amenities to its travelers while on a cruise. The deluxe cabins have shower bathroom with hot and cold water, A/C, wall painting, walk-in closets and fruit baskets. The ships also have sunbathing chair on the top yard where the guests can have tanning themselves.
The cruiser organizes a number of activities for its guests. You can have kayaking on boat, music, dacing in the lounge or relaxing on top of the ships.
The cuisine offered on board is simply fantastic. You get to choose from a wide array of breads, salads and Vietnamese food. Desserts and wines served are of the best quality.
With Bien Ngoc Cruise Liner, your days are full, and everyone quickly become friends. We pay a lot of attention to safety and tourist satisfaction. Everyone is happy to dig into ample, tasty meals. And when the night comes you will deeply fall into a relaxing fresh air inside the bay.
Technicals:
Name: Bien Ngoc Cruise
Length: 31,5 m
Width: 7,3 m
Greeting hall: 09x5,5 m equipped with 29000 BTU air-con for 40 people
Bar: 4x4 m
Cabin: 4,2x2,7 m with 11 units
Cabin equipments: Hot/cold water, private bathroom with shower, two ways air-con of 9000 BTU
Playing ground: 7x5 m
Corridor two sides of Greeting room: 10x0,7 m
Sun-bath ground: 17x5,5 m with 15 sunbathing chairs - 7 rocking-chairs
Main sails: height: 10m, width: 7,5 m; Mizen sail: height: 9m, width: 6m; foresail: height: 9,5 m, width: 7m
Boat machine capacity: 160 CV
Electric generator 1: 65KW
Electric generator 2: 35KW
Electric generator 3: 15KW
Crew: 1 captain, 1 captiain mate, 1 chief mechanic, 1 chief mechanic mate, 1 cooker, 1 waiter, 1 housekeeper, 1 bartender, 1 receiption
Bien Ngoc cruises
Bien Ngoc cruise 2 days 1 night
Bien Ngoc cruise 3 days 2 nights


---