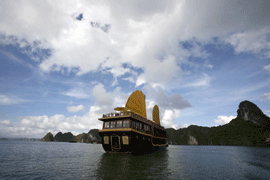 Designed with Asian traditional junk, with 10 cabins, Spice Cruises has been launched in August 2008 for small group tour or family travelers. This newly built, custom-designed yacht features three decks that house a luxury and elegant restaurant, a bar, a small library, and a massage area-plus ten luxurious sleeping cabins. With that much space, passengers can truly unwind in the best atmosphere. As one of the outstanding cruises in Halong Bay, Spice Cruise is luxuriously appointed. Offering four types of intimate, luxury, personal accommodation, fully-equipped dining room with Internet accessed computer, wooden bar with hundreds of cocktails, mocktails, air conditioning installation, passengers are sure to be pampered. Moreover, deluxe and Spice rooms with the best facility give you a special private space. All cabins are decorated with traditional Vietnamese hardwood giving them a rich, luxuriant warmth
Cabins

The Spice deluxe cabins and Spice cabins have shower bathroom with hot and cold water, A/C, walk-in closets and fruit baskets, especially LCD TV and DVD which are the effective tools to relax in the room. Each cabin is well- equipped with Asian traditional style. The harmonious combination among wooden carvings, wooden mini – bar and lantern inspires customers' classic impression. This traditional style combines with modern facilities make the visitor feel comfortable and convenience. Whenever you can relax in your room and enjoy the splendor of the sites through panoramic window.
Restaurant

Located in the back of the Spice junk, with area for check in/out, this Luxurious restaurant is designed to serve 25 customers with separate tables and chair carved with precious wood. Cuisines offered on board with topics: traditional Vietnamese and Western foods and mixed Brunch Buffet. The chef will provide deluxe amenities and pampering services whilst cruising through magnificent landscapes. Spice Cruises also provides Internet accessed computers which are necessary for businessmen doing both traveling and working.
Sundeck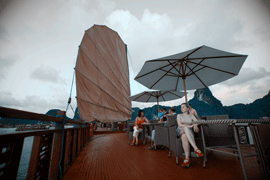 We separated the junk into 2 areas: One with sunbathing chairs where the guests can be tanning themselves for relaxing with Sunset Cocktail Party, one with couple wooden chairs under the exotic big umbrellas where they can sit and enjoy cocktails and the tranquility of World Wonder Heritage dotted with elegant green trees. Sun deck looks like a hidden island where visitors will have an overview about the grandiose scenery of Halong Bay
Activities

Swimming, snorkeling and kayaking in the crystal clear turquoise waters of Halong Bay are favored activities for the energetic. While morning Tai Chi on the sundeck offers a more meditative and uplifting start for the more contemplative. Adventure outings, tour excursions, cooking demonstrations and theme cruises are also available by prior arrangement.
Halong Spice cruises
Halong Spice cruise 2 days 1 night
Halong Spice cruise 3 days 2 nights


---