White Dolphin cruises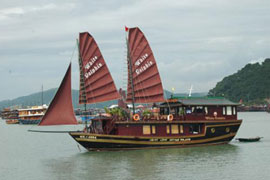 You are choosing a really romantic, private sail for your wedding ceremony, honeymoon or celebrating a special anniversary or renewing your marriage vows? Surely, White Dolphin Cruise will be the perfect excursion for you!
Luxuriously designed with only 2 double cabins, White Dolphin want to please the client who is seeking the comfort and refinement.
You will be surprise because of her sleek design, good sailing performance and clever use of space below decks. The sundeck is designed purely for relaxation and is open plan to take advantage of the magnificent blue views. Moreover, it is such a romantic area for your dinner under the stars.
Furthermore, White Dolphin have well-educated and professional crews who are friendly, hospitality and informative, they will teach you everything you need to know about Ha Long bay and its inhabitants and so on.
Deluxe cabin
Once you board, you can do as you please, leave when you're ready and go where you'd like even an untouched area, explore every tranquil scenery in Ha Long and Bai Tu Long bay.
Let join us and White Dolphin is the perfect way to ensure you have a hassle free sailing holiday in the world heritage site- Ha Long bay
White dolphin 96
Sleek and refinement in design, professional in services, unique itinerary, White Dolphin 96 will bring you a romantic and memorable trip in the world heritage site – Ha Long bay.
It features 10 comfortable rooms, which were deliberated on a combination of traditional and luxury. All rooms are especially designed with big windows on the sea so that you can view the whole admirable scene of Ha Long bay, even from your bedrooms.
Sundeck is completely designed in the best way for your relaxation, sightseeing or sun-bathing when cruising in the bay.
The luxury, large and cozy dining room with balconies is perfectly designed to let each of you freely enjoy the marvelous view of Ha Long Bay. Especially, you can just enjoy your favorite meal; just see the romantic scenery by our camera system.
Bar
The main food is Vietnam traditional dishes made of local seafood. Besides, experienced cooks of White Dolphin also can serve you other delicious dishes from beef, chicken with fresh herbs and spices…
Our professional crews have grown up cruising and sailing on Ha Long bay, so you can depend on genuine in-depth knowledge.
In addition, cruising in her own way, less travel pass, you surely have chance to explore the tranquil scenery and untouched area in Ha Long and Bai Tu Long bay.
Let us prepare you for a holiday of a life time.
Cruise Facts
White Dolphin 96
Style: Vietnam Traditional
Launch: November 2008
Size: Length: 37,5m * Wide: 8m
Engine: Two YANMAR engines, made in Japan with capacity 60 CV
Generator: With capacity 160 KW
Safety equipments: 63 life buoy, 18 fire extinguishers, and two medicine boxes
Crew: With 08 well trained staff.
White Dolphin 94 & 95 with two deluxe Cabins each - 25 sqm
Style: For private, family or small group, Made in 2008
Size: Length: 23.5m, Wide: 6.4m
Engine: YANMAR, made in Japan with capacity 63 CV
Generator: Capacity 20 KW.
Crew: With 5 well trained staff to make sure your satisfaction
Accommodation
Room
White Dolphin 96
Room: 02 Royal suites panorama windows
08 deluxe rooms fully equipped with air conditioning, 01 bathroom with shower & hot water
Sun lounge: 250m2. It is an idea place relaxing and sun bathing.
Guest room and Bar: 70m2. It is designed and decorated follow the Asian and European style
Kitchen: Western, Asia & Vietnamese food.
Massage and Spa Area
Boutique Library
White Dolphin Prince cruises
White Dolphin cruise 2 days 1 night
White Dolphin cruise 3 days 2 nights


---