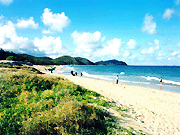 This beach lies at Quan Lan Island in Bái Tử Long Bay, between Minh Châu and Quan Lạn communes of Vân Ðồn District, 55 km away from Hạ Long City. Its pristine beauty features unspoiled environment. The deep blue beach has strong waves and white sand, which spans over several kilometers. Tens of meters away from the beach stand the very green wild pines, which further add to its original charm.
The Việt Mỹ Company is investing in a system of guesthouses taking the shape of stilted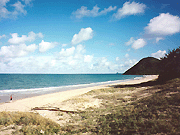 houses, which hide themselves under the lush foliage of casuarinas. A brick-paved road leads tourists from the artery to Quan Lạn Beach. Its pristine beauty and pure environment have made it a mecca for tourists.
---
See More Halong Bay
About Halong Bay Vietnam | Bai Tu Long Bay | Bo Nau Grotto | Bai Chay Beach | Dau Go Grotto | Ðau Be Island | Drum Cave (Hang Trong) | Cua Van- Van Gia Fishing Village | Cong Ðo Island | Cong Tay Island | Kim Quy Grotto | Sung Sot Cave | Luon Cave | Minh Chau Beach | Me Cung Grotto | Ngoc Vung Island | Ngoc Vung Beach | Quan Lan Beach | Trinh Nu Grotto | Thien Cung Grotto | Tam Cung Grotto | Ti Top Beach | Ti Top Island | Tuan Chau Island |